Scientific Name: Chamaecyparis nootkatensis
Alaskan Yellow Cedar is quite a versatile species of lumber that can easily be used in any project.
This species of wood can be used for decks, siding, trim, ceiling, paneling, floors, doors, custom woodworking, and millwork. Its durability and ease of tooling makes it readily adaptable for the construction and finishing of homes, schools, factories, churches, and recreational centers along with a variety of other residential, commercial and industrial uses.
Found only on the Pacific coast of North America, Yellow Cedar is the hardest known cedar in the world.
Prized by boat builders, it has exceptional resistance to weather and insects as well as easy workability. First used by the West Coast Indians for their historic Totem Poles and great war canoes, it is a rare and often difficult to find lumber species.
Alaskan Yellow Cedar is very popular for carving as well as versatile when used in industrial applications. It has been traditionally used for boat building because of its long term durability. Racing boat enthusiasts have often used it for high performance shells, and for bridge decking. It stands up to constant wear and load impacts without forming ridges or splitting. It does not splinter, so it is also used on stadium seating.
When ordering your Cedar products it is important to understand lumber sizing.  Lumber is generally going to be sold on what is called Nominal Sizing rather than Net Sizing. An example of this would be to order a 2″x4″.   Though the board is nominally called a 2″x4″ its net size may be 1.5″ x 3.5″ if it has been surfaced on all four sides.   
If you need a particular net size of material, please be sure to make your sales representative aware of the exact net size so he can provide you with the right piece of lumber.
Common Yellow Cedar Lumber Grades Available
Note: all pictures are meant for a general grade description.  If you want to see a more defined grade image, please let us know.  We can email you pictures and grade rules.
Clear Vertical Grain – Pieces may exhibit a few minor characteristics which do not detract from their high appearance and quality.  Limiting provisions include:  very light torn grain, very light skips on the non-graded face and very light warp.
A & Better Clear – Ideally suited to applications where finishing requirements are less exacting.  Limiting provisions include: small seasoning checks , occasional very light skips on edges and backs. Allows for two small, sound tight knots or their equivalent
C and Better Clear -This grade accounts for pieces of lumber having one or more characteristics which are of such size and number that the piece is not of C & BTR grade. Medium pitch streaks, limited pin holes, hit and miss skips, two knots approximately 1″ or their equivalent
D and Better Clear – Clear grains but allowances for medium pitch streaks, limited pin holes, hit and miss skips, two knots approximately 1″ or their equivalent.
Select Tight Knot – The basis for this grade are the knots, burls and naturally occurring markings which are of fairly uniform distribution and add to the decorative character of the piece. Sound, tight knots: star checked and/or slightly chipped knots permitted.
Bear Creek Lumber can offer other grades depending on the type of product ordered.  
Boards, timbers, paneling, bevel, etc all have slight variations to their grades, so it is important to understand what you are ordering.  If you are not certain on the grade you are being quoted, feel free to ask your sales representative for additional information. 
It is also important to be aware that if you are getting quotes on different grades of the same product that you are sure which grade you are purchasing at the time of sale.  Each grade has different characteristics and allowances for trim backs, so when you sign your purchase agreement it is imperative that you understand which grade you are going to be receiving.
Note the different colors above (some boards have been finished). Yellow cedar, like any other wood, has a range of colors from soft yellow to light brown.
Alaskan Yellow Cedar Products In Application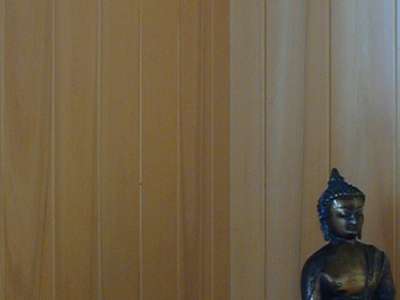 Alaskan Yellow Cedar Paneling is one of the most beautiful options for paneling due to its light coloring, fine texture and straight grain. We offer most common patterns in-stock, and we have the capability to mill almost any pattern you can think of .
Alaskan Yellow Cedar Ceiling Paneling is a customer favorite for the same reasons. It's also quite durable and will last a long time, especially in an interior application. The Our inventory includes all sizes and patterns in Cedar ceiling products, and we offer additional special order patterns.
When we talk about Alaskan Yellow Cedar paneling and ceiling paneling we are not talking about 4'x8′ sheets, but rather tongue and groove, shiplap or similar materials that can be used to panel your walls and ceilings. Sought after for use in saunas, interior pool rooms and rooms that need a bright paneling solution.
Yellow Cedar is a great choice for indoor use as it has a nice color range of wood tones, has a pleasant but not overpowering aroma and works in both humid and dry environments.  We can offer the Alaskan Yellow Cedar paneling in clear and knotty grades, allowing for our clients to adjust what they order based on their individual budget.  The most common widths for paneling are going to be nominal 4″ and 6″, but we can product narrower or wider patterns through out specialty milling options.  Common tongue and groove patterns will include V2E, V4E, edge and center bead, or center match.  Custom patterns can be created with our specialty milling options.
Yellow Cedar is a great choice for rafters and beams in island homes. All beams are available in Clear, Select or Standard and Better grades. Available in lengths up to 24'. Lengths up to 40' available but must be special ordered All Sizes are available.
The field of construction using solid sawn Alaskan Yellow Cedar timbers is greatly diversified. It covers many types of engineered structures; commercial, industrial, and residential buildings; and landscape structures such as bridges, arbors, pergolas, gazebos, field houses and the like.
In general, applications can be classified into two very broad use-groups: first, for those structures such as large buildings in which both the strength and appearance of exposed wood members are of equal importance; and second, in landscape, park and garden structures where appearance is paramount. For both use-groups, Alaskan Cedar offers the advantages of natural beauty, design flexibility, exceptional dimensional stability and long term durability.  
This type of Cedar has a long history of withstanding the rigors of time and weather.  It is also recognized structural material with known mechanical and physical properties.  These attributes allow the design of timber structures of all types using basic engineering principles and stress-or appearance-rated grades of Cedar. 
Most common in patterns Yellow Cedar repells insects naturally. The exterior finish of a building is the face it presents to the world. It defines the mood and character of the structure and reflects the image desired by its designers, builders or owners.
Alaskan Yellow Cedar siding is available in a range of designs and grades, offering the variety and versatility to complement any architectural style. It adapts equally well to bold and expressive modernism or the well defined criteria of period styling. Above all, Alaskan Yellow Cedar has an enduring beauty that projects an aura of prestige. It is a wood with great dimensional stability and natural decay resistance. Common patterns for siding include tongue and groove, channel, pattern 105 or board and batten. Custom patterns can be created with our specialty milling options.
Shakes and Shingles
Shingles are sawn. Shakes are split. Shingles have a relatively smooth surface while shakes have at least one highly textured natural grain split surface. Shingles and shakes are generally used for roof and sidewall applications in the natural or unfinished state. Highly resistant to weather and rot, this boat building wood makes for a perfect shake or shingle siding...
Yellow cedar lasts longer because it naturally resists rot and moisture. Incorporating a deck into your home is a great way to add value the home, increase your living space and to better your overall quality of life.
Highly resistant to weather and rot, this wood will make your deck last longer with the added benefit of beautiful colors. Alaskan Yellow Cedar is great for decking as it is easy to work with, has a pleasant aroma and is durable yet not hard and unyielding. Yellow Cedar decking can come in a variety of sizes, but the most popular are 5/4×4, 5/4×6, 2×4 & 2×6.  Bear Creek Lumber can offer this cedar decking in random lengths of 6′ and longer and can also sell in specified lengths, which will often create premium pricing if specified in long lengths. 
Yellow Cedar trim can provide an amazing finish to your paneling or siding. This hard-to-find species has soft yellow tones. Rot and insect resistance are also a plus. Real wood trim on residential, commercial or industrial buildings perfectly complements any architectural style and is compatible with all contemporary cladding materials.
The ideal wood for trim is Alaskan Yellow Cedar. Its dimensional stability, longevity, ability to accept a wide range of finishes, resistance to decay and natural good looks make it the only sensible choice for base boards, corner boards, fascia, skirting and window and door trim. Alaskan Yellow Cedar trim boards are available in Clear and Knotty grades. Trim boards are often available in Surfaced Four Sides (S4S) Surfaced One Side Two Edges (S1S2E) or Rough Sawn textures.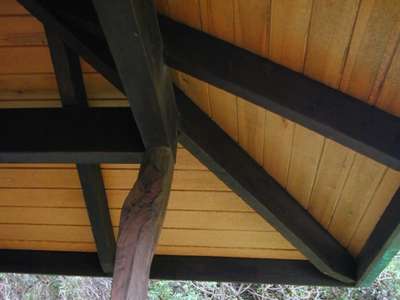 Alaskan Yellow Cedar is a great soffit option, especially in tropical locations. It is naturally resistant to rot, decay, and insect damage. We offer you sizes, patterns and lengths to influence the appearance of a covered deck or entry way we offer many pattern widths.
We offer many sizes of Yellow Cedar boards, in various grades, and at long lengths. 1x4, 1x6, and 1x8 are some of the more common sizes we offer. From boat and airplane building to any application you can think of, AYC boards will be a great choice to build with.
Characteristics Of Alaskan Yellow Cedar
General properties: Moderately heavy wood, soft, fine textured, straight grained, easily worked and durable. It is rated as moderate in strength, stiffness, hardness and shock resistance.
Texture: Light yellow in color, straight grained, even, compact texture with its natural oils giving it a smooth wax like finish.
Strength: A strong wood with density equivalent to 29 lbs. per cubic foot at 12% moisture.
Durability: Resists weather, rot, termites and corrosion from acid solutions. Has 2 1/2 times the life expectancy of Douglas Fir in vats and flumes.
Fire Resistance: Takes almost twice as long to reach flame break-through as other softwoods.
Nail holding: Has excellent nail-holding ability.
Splintering: It does not splinter, making it ideal for stadium seats, playground equipment and deck railing.
Wearability: Dense and tough, it is highly resistant to wear. Excellent for bridges, decks, boats and paneling.
Workability: Easy to work with and holds glue well.
Link to more technical information regarding Alaskan Yellow Cedar…
Use only stainless Steel nails with Yellow Cedar
We thought we would share with you some pictures of Yellow Cedar siding that got installed with regular fasteners. See photos below…
Finishing Alaskan Yellow Cedar
Although Alaskan Yellow Cedar is naturally durable, a surface coat is recommended to protect the wood and extend its service life.  When selecting a finish coat, make sure it contains the following: water repellent, Fungicide/Mildwcide, Protection against ultra violet light.  Penetrating oil-based products, particularly those containing pigments, are recommended for Cedar.  Pigments provide increased UV protection. 
Importance of Stainless Steel Nails and Fasteners
Hot-dipped galvanized, aluminum and stainless steel nails are all corrosion-resistant and all can be used to nail Alaskan Yellow Cedar. 
Other types of nails, such as electro-plated, are not recommended.  They can rust and disintegrate and react adversely with the natural preservative oils present in Cedar, resulting in stains and streaks.  Copper nails also react with Cedar and should not be used.   Stainless steel is the best choice but hot-dipped galvanized is the most widely used and economical.
Below is an example of a contractor that used regular nails on an Atlantic coast home, with Alaskan Yellow cedar 1″x3″ Tongue and Groove siding.
The contractor erroneously thought that blind nailing the TnG would prevent the nails from corroding. The pictures show that corrosion has started, and streaks seem to come from the wood. Alaskan Yellow Cedar has tannins in its fibers that react with untreated steel, resulting in these black marks.
Although some people may find these "zebra" streaks somewhat attractive, we must remember that behind this wood there is a corroding fastener that eventually would need replacement. Remember to only use stainless steel fasteners with Alaskan Yellow Cedar products.
Alaskan Yellow Cedar grows in a band from Southern Alaska to Southern Oregon. It is one of the slowest growing trees in North America and includes trees that are 700-1200 years old. 50-60 annual rings per inch are not uncommon. 
This rare and exceptionally beautiful wood species seeks out high and adventurous sites and often grows to the tree line. It is a medium sized tree, with a thin bark. It is slow growing with high disease and decay resistance, as well as oils that make it very aromatic. It grows from Alaska south to Oregon with the largest areas of growth in British Columbia and SE Alaska. Other common names: Nootka cypress, sitka cypress, pacific yellow cedar.